'Op Hodenpijl', Rijksstraatweg 20, Schipluiden, the Netherlands
These series of paintings were all created in a time of not knowing what tomorrow will bring.
Most of us would consider that normal. Yet, one generally has a rough idea of what one's following day might look like. Only when a metaphorical meteorite hits you, time stops.
Fate pushed my family into an abyss of uncertainty.
The feeling I'm trying to capture is the sensation one gets from having a carpet ripped from underneath your feet and you find yourself momentarily suspended, floating aimlessly. Only when the carpet is trauma (especially having people ripped from your life suddenly),
that moment becomes an eternity and time stretches out over an endless landscape without any refuge or escape.
And so your world stops.
And you are in a bubble of nothingness, you watch the world rush on…. disconnected from all the hamsters on their wheels.
These portraits are moments suspended in time, in between realities.
Varenka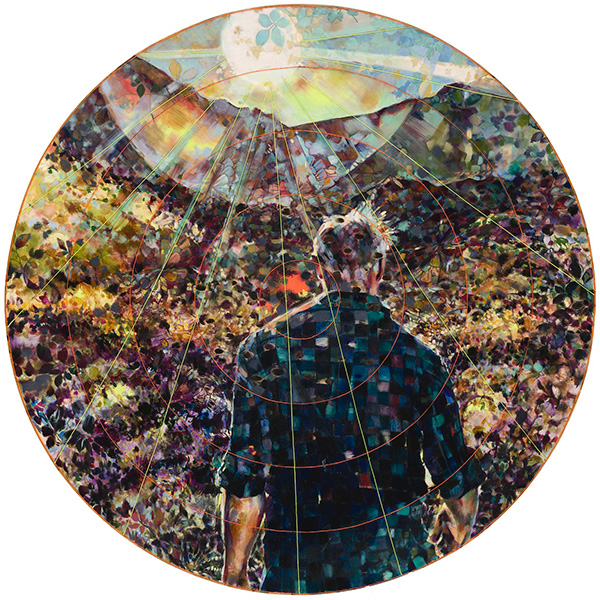 nieuw werk van Varenka Paschke
De tentoonstelling Portraits of the Unknown
is te zien van 4 september tot 4 oktober
'Op Hodenpijl', Rijksstraatweg 20, Schipluiden
Ronde doeken 120cm diameter, olie op stof op bord
Deze verzameling schilderijen heb ik gemaakt in een tijd dat ik niet wist wat morgen mij zou brengen.
Voor de meesten van ons is dat misschien evident, maar over het algemeen weten wij dikwijls min of meer wat ons te wachten staat de volgende dag, totdat een metaforische meteoriet ons leven treft en opeens lijkt alles dan te stoppen en leef je in een parallelle wereld.
Zo'n soort noodlot trof mijn familie en leidde ons naar een ruimte vol onzekerheid.
Het idee dat ik probeer vast te vangen in deze verzameling schilderijen is het gevoel dat je ervaart als het tapijt opeens van onder je voeten wordt weggetrokken, en je vleugellam tussen hemel en aarde zweeft.
Het soort trauma dat ontstaat als er mensen opeens uit je leven weggerukt worden en je terecht komt in een vrije val zonder vangnet.
Alles staat stil en je waant jezelf in een ruimte van leegheid, terwijl de wereld in de verte verder blijft draaien.
Je lijkt afgesneden te zijn van alles om je heen, de mallemolen van wie je denkt te moeten zijn en de 'rat race' van ambities. 
Deze portretten zijn als foto's die dat proberen vast te leggen.
Momenten in een parallelle wereld met uitzicht op de werkelijkheid.
Achter beslagen ramen.